Helsinki
Helsinki, the modern and cosmopolitan capital of Finland situated on the Baltic Sea, is a city with over half a million residents. Helsinki offers lots to see, do and experience year round. Discover the maritime appeal, unique design and architecture attractions, exciting food culture, great shopping opportunities and over 3,000 lively events held each year. Feel the cultural influences from both the East and West, meet the friendly locals and enjoy the slow rhythm of urban Helsinki. Explore and be inspired: www.myhelsinki.fi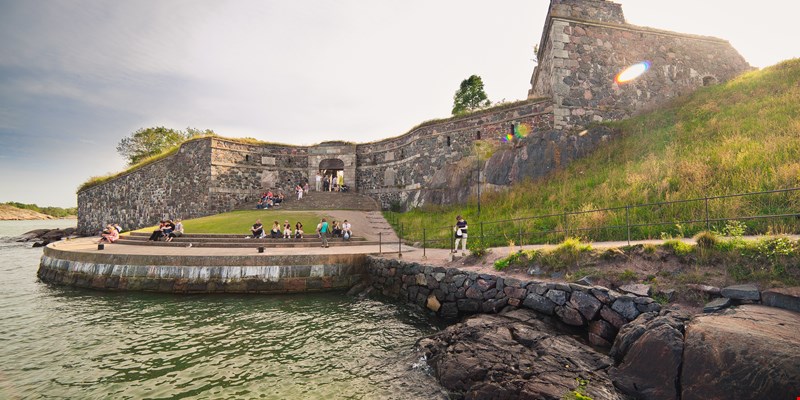 Suomenlinna is one of seven UNESCO World Heritage Sites in Finland and a fascinating destination to explore. There are 6 kilometers of wall, over 100 cannons, exciting tunnels, museums, guided tours, cafés and restaurants. The ferry ride itself is a fun experience, allowing you to see and photograph Helsinki from the sea. Suomenlinna attracts visitors of all ages. The fortress is easily accessed by ferry from the Helsinki Market Square all year round. Around 800 people live in Suomenlinna.
Adress
Suomenlinna island, Helsinki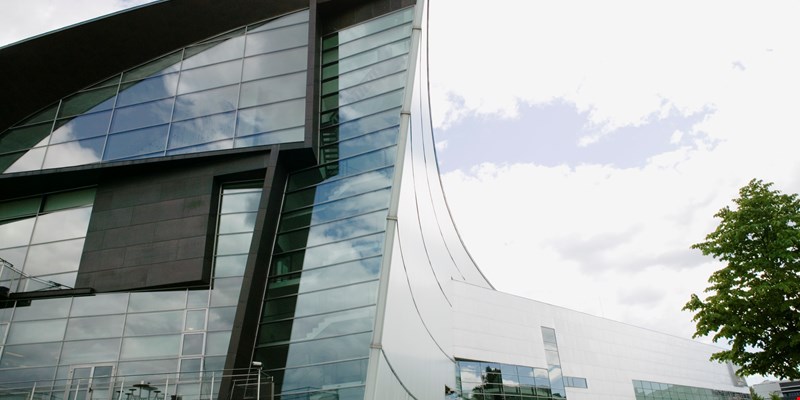 Museum of Contemporary Art Kiasma
Kiasma breaks the barriers of traditional art museums with exhibitions that provoke and invite debate. The building itself is a work of art.
Adress
Mannerheiminaukio 2, Helsinki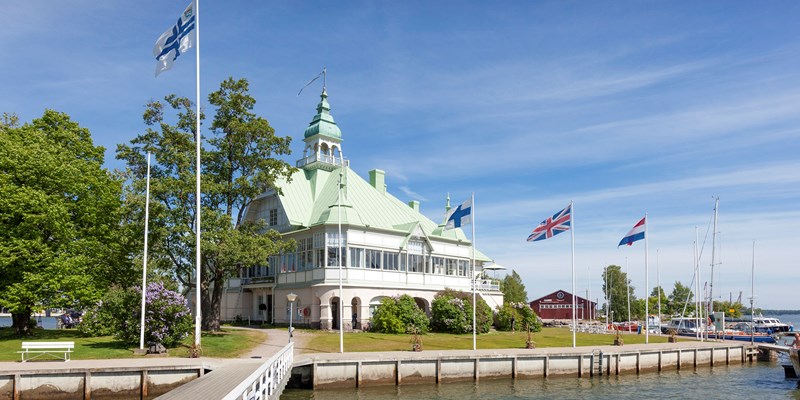 The villa-type restaurant, located on the small island of Valkosaari, was built in 1900. It is one of the best locations for festivities during the summer season, the most popular crayfish restaurant in town – and a wonderful setting for a tasty meal. The tall, spacious Middle room is surrounded by a bright covered veranda with large windows and a view towars the Market Square and Katajanokka.
Adress
Our light-filled dining room and cosy lounge with a fire offer wonderful, expansive views of Hesperia Park and Töölönlahti Bay. Our kitchen serves up modern Scandinavian cuisine with European touches.
Adress
Helsinginkatu 56, 00250 Helsinki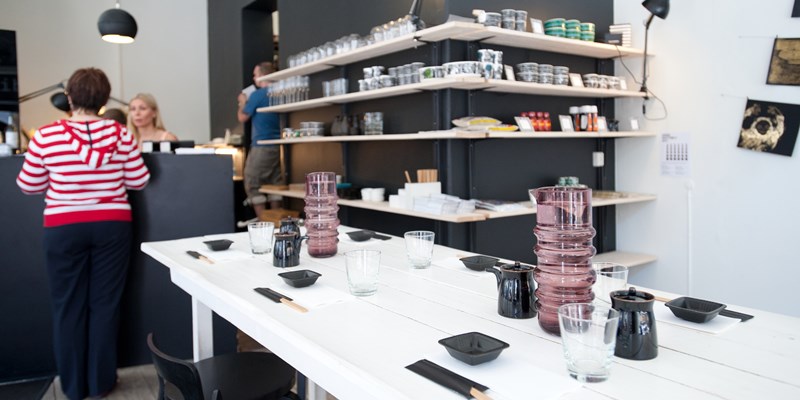 Design District Helsinki is the creative core of Helsinki, a Unesco Design City. It's a network of over 200 locations from design stores to fashion and antique boutiques, art galleries, design hotels, restaurants and cafes. Its 25 spread through the neighbourhoods of Kamppi, Punavuori, Ullanlinna and Kaartinkaupunki. Design District Helsinki is easily reachable by walking - to find your way, pick up your map from tourist informations, design shops or your hotel, or check it online from the website.
Adress
Kamppi, Punavuori, Kaartinkaupunki, Ullanlinna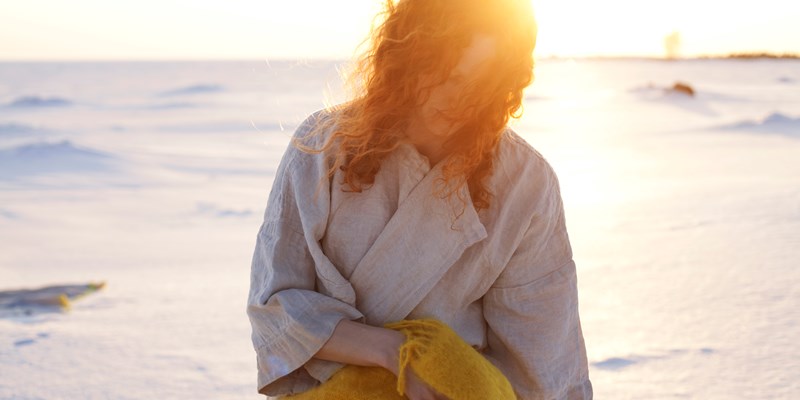 Lapuan Kankurit Store & Studio
Lapuan Kankurit is a jacquard weaving mill, where weaving skills and material knowhow have been refined into excellence for decades. Knowing every step from thread to product is of utmost importance to Lapuan Kankurit.. In the weaving mill's flagship store you will find a wide selection of linen and wool products and other interesting, delightful lifestyle items– buy them for yourself, as a gift or to remind you of your visit to Helsinki.
Adress
Katariinankatu 2, 00101 Helsinki
Arriving in Helsinki
Helsinki can easily be reached from anywhere in the world. By plane - Around 200 international flights a day arrive at Helsinki Airport, which is situated 19 kilometres from the centre of Helsinki and can be reached by car in approximately 25 minutes. You can also take a taxi, the Finnair airport bus or the Ring Rail Line train to the Central Railway Station. A taxi to city centre costs approximately 35 euros. www.finavia.fi/home By train - There are excellent train connections from Helsinki to all major towns in Finland as well as to Lapland. There is also a daily train service to St. Petersburg and Moscow. The Central Railway Station is a landmark unto itself in Helsinki. www.vr.fi/en By bus - Buses from all around Finland arrive to the central bus station, from the largest cities approximately every hour. www.matkahuolto.fi/en/ By ferry - There are daily ferry services to Helsinki from Estonia, Sweden and Germany. All the ferry companies offer also possibility to take a car with you. https://www.portofhelsinki.fi/en/passengers/arrivals-and-departures, www.eckeroline.fi/en, www.tallinksilja.com/en/, www.vikingline.fi/en, https://stpeterline.com/en, www.finnlines.com/ferry-trips
Public Transport
With a single ticket you can hop aboard trams, busses, the metro and even the ferry to Suomenlinna – why not to try for instance a sightseeing tour on tram routes 2 and 3. Single tickets must be purchased in advance from ticket machines or sales points. https://www.hsl.fi/en/tickets-and-fares/sales-points From bus drivers you can buy tickets when entering the bus. Day tickets are available for unlimited use on public transportation for 1-7 days. They can be purchased from ticket machines, from the Tourist Information or from the Helsinki City Transport service point in the Central Railway Station. One day ticket is also sold by the drivers. www.hsl.fi/EN/ticketsandfares/singleticketsanddaytickets Regional tickets allow the holder to travel freely in Helsinki, Espoo, Kauniainen and Vantaa. Regional tickets and regional tourist tickets can be purchased eg. from ticket machines. Some Helsinki Region Transport (HSL) buses and trams offer free wireless internet access. Look for the WLAN sticker on the front window or door of participating buses and trams. Helsinki Card holders can travel free of charge on public transportation within the city. www.helsinkiexpert.com/helsinki_card Helsinki Region Transport www.hsl.fi/EN Journey Planner: Find the quickest route from A to B http://aikataulut.hsl.fi/reittiopas/en/
Tourist Information
Helsinki Tourist Information Helsinki railway station, Kaivokatu 1 (VR ticket office) Tel: +358 9 3101 3300 (Mon-Sat 9-15:30) helsinki.touristinfo@hel.fi www.myhelsinki.fi Mon-Fri 9-18, Sat-Sun and during public holidays 10-17, and during summer season, 3.6.-15.9., Mon-Fri 9-19 and Sat-Sun 10-17. Helsinki Region Tourist Information Helsinki Airport, Terminal 2, Arrival Hall 2 helsinki.airportinfo@hel.fi 1.10.-30.4. Mon-Sat 10-18 and Sun 12-18, 2.5.-30.9. Mon-Sun 10-20. During the summer season from June until the end of August, Helsinki Helpers patrol the inner city and cruise harbours, providing tips on interesting sights, events, restaurants, shopping venues and various travel services.
Telephone
Country code: + 358 Area code: (0)9
Free WiFi in Helsinki
The city of Helsinki offers a free WLAN-service for residents and travelers alike. No passwords or registration required. Just look for "Helsinki City Open WLAN" from the available networks.
Taxi
Taxis are easy to hail in the city centre except during the busiest periods. Taxi stands are conveniently located throughout the centre. Taksi-Helsinki Tel. +358 100 0700 (1,17€/call +0,25€/10 seconds + local call charge) www.taksihelsinki.fi/en Airport Taxi Yellow Line Tel. +358 600 555 555 (1,99 €/call+local call charge). From airport to city centre with special price. www.airporttaxi.fi/index_airporttaxi_en.html Lähitaksi Tel. +358 100 7300 (1,17€/call+0,17€/10 seconds +local call charge) www.lahitaksi.fi/en
Pharmacy
24-hour service: Yliopiston Apteekki Address: Mannerheimintie 96 Other pharmacies in the city centre: Yliopiston Apteekki, Mannerheimintie 5, open daily 7am-12midnight Apteekki Bulevardia, Bulevardi 13, open Mon-Fri 8:30am-7pm, Sat 10am-4pm
Arriving in Helsinki
Helsinki can easily be reached from anywhere in the world. By plane - Around 200 international flights a day arrive at Helsinki Airport, which is situated 19 kilometres from the centre of Helsinki and can be reached by car in approximately 25 minutes. You can also take a taxi, the Finnair airport bus or the Ring Rail Line train to the Central Railway Station. A taxi to city centre costs approximately 35 euros. www.finavia.fi/home By train - There are excellent train connections from Helsinki to all major towns in Finland as well as to Lapland. There is also a daily train service to St. Petersburg and Moscow. The Central Railway Station is a landmark unto itself in Helsinki. www.vr.fi/en By bus - Buses from all around Finland arrive to the central bus station, from the largest cities approximately every hour. www.matkahuolto.fi/en/ By ferry - There are daily ferry services to Helsinki from Estonia, Sweden and Germany. All the ferry companies offer also possibility to take a car with you. https://www.portofhelsinki.fi/en/passengers/arrivals-and-departures, www.eckeroline.fi/en, www.tallinksilja.com/en/, www.vikingline.fi/en, https://stpeterline.com/en, www.finnlines.com/ferry-trips
Public Transport
With a single ticket you can hop aboard trams, busses, the metro and even the ferry to Suomenlinna – why not to try for instance a sightseeing tour on tram routes 2 and 3. Single tickets must be purchased in advance from ticket machines or sales points. https://www.hsl.fi/en/tickets-and-fares/sales-points From bus drivers you can buy tickets when entering the bus. Day tickets are available for unlimited use on public transportation for 1-7 days. They can be purchased from ticket machines, from the Tourist Information or from the Helsinki City Transport service point in the Central Railway Station. One day ticket is also sold by the drivers. www.hsl.fi/EN/ticketsandfares/singleticketsanddaytickets Regional tickets allow the holder to travel freely in Helsinki, Espoo, Kauniainen and Vantaa. Regional tickets and regional tourist tickets can be purchased eg. from ticket machines. Some Helsinki Region Transport (HSL) buses and trams offer free wireless internet access. Look for the WLAN sticker on the front window or door of participating buses and trams. Helsinki Card holders can travel free of charge on public transportation within the city. www.helsinkiexpert.com/helsinki_card Helsinki Region Transport www.hsl.fi/EN Journey Planner: Find the quickest route from A to B http://aikataulut.hsl.fi/reittiopas/en/